Contact ingame
Edit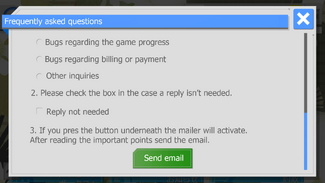 If you have lost your account or simply want to contact the staff you can do so ingame via other -> support.
However, if you have lost your account you have to contact them via the webpage.
If you click on "send mail" an automatically generated email form will pop up. Just fill the missing things out.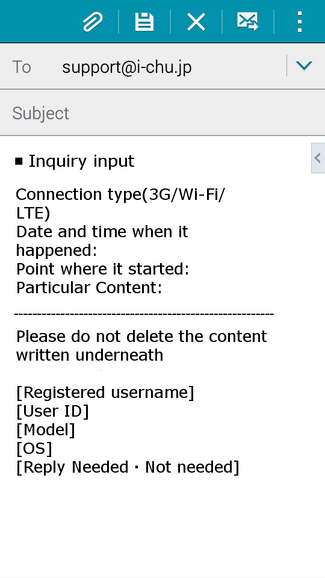 Contact via official site
Edit
You can also contact the staff via their contact page.
No matter where you contact the staff, the email has to be in japanese. They won't take care of emails which aren't in japanese.
If you're writing them via the webpage because you have lost your account you can copy this form.

ユーザーサポートへ、

エラーのせいでアプリを再インストールしました。引き継ぎコードを発行できませんでしたので、アカウントのデータ失ってしまいました。コードを取り戻す事が出来ませんでしょうか?

アカウントの情報は
・アプリを始めた日 → [ ] 年 [ ] 月 [ ] 日
・ユーザー名 →
・ユーザーID →
・生年月日 → [ ] 年 [ ] 月 [ ] 日
・当時のRANK →
・所持していたアイチュウの名称→
・設定していた自己紹介文 →
・最後にログインした日時 → [ ] 年 [ ] 月 [ ] 日
・新ユーザーID→
・ご利用端末 →
・その他、プレイ情報がわかる情報→
・スクリーンショットなど →

下手な日本語で申し訳ございませんが、よろしくお願いします。

Translation of that would be

To whom it may concern,

Because of an error I had to re-install the game. I was not able to generate a transfer code and lost my account. Is it possible to recover it?

The data of my account was
・Day you started the game → [ ] year [ ] month [ ] day
・Username →
・User ID →
・Birthday → [ ] year [ ] month [ ] day
・Rank at that time →
・Name of I-Chu's possessed →
(The card name should be like this 【R】愛童 星夜(ジャパニーズ歌舞伎☆) and you need to say how many copies of that card you have which is [number of copies]枚)
・The text used as self introduction in your profile →
・Last day you logged in → [ ] year [ ] month [ ] day
・New user ID →
・Used terminal →
・Other information about playing →
・Screenshots →

I apologize for my poor Japanese. Thank you very much!

If you should not know one of these you can add in 分かりません [I don't know] or 忘れました [I forgot].
If you should attach a screenshot of your cards to the mail add in メールにスクリーンショットを添付しました [I attached screenshots to the mail] into the field where it's asked about your cards.
Listing 3-5 cards in the field where they ask for your cards should be enough.

After you sent the mail you might receive a mail instantly, saying that the staff will take care of your mail asap.
It might take them up to 3 days to send you a mail with your new transfer code back.
Community content is available under
CC-BY-SA
unless otherwise noted.