By playing the rhythm game you will receive and collect event points. You can also earn rewards by your final rank when the event is over.
How to playEdit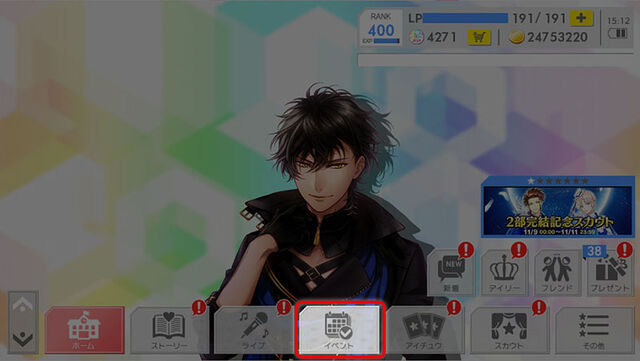 Click on the icon in the middle of the menu bar to get to the event page.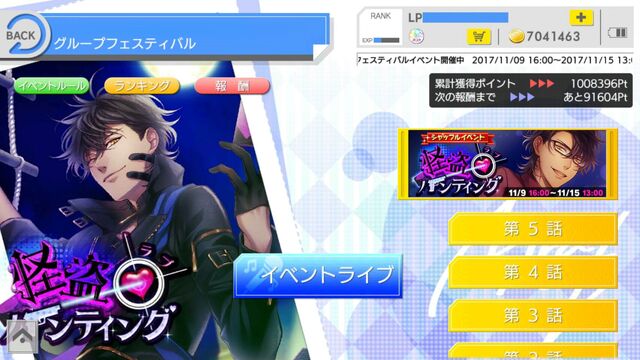 Green Button: Event rules and event notice
Yellow Button: Ranking
Red Button: Rewards
Blue Button: Start live show
Black Banner: The amount of points you have and how many points you have left until the next reward.
Yellow Button: Click here when you want to use a disc to double your points.
The multipler under the card icons shows how many more bonus points this card gives.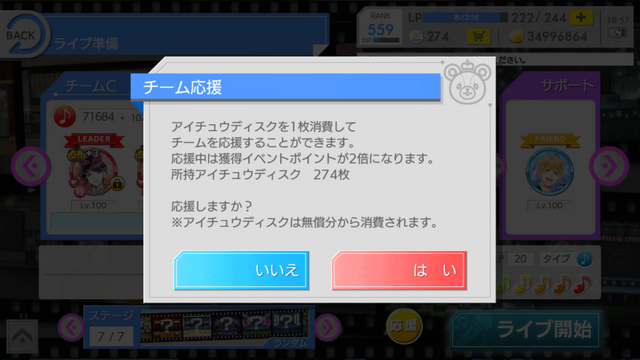 It asks you if you want to use one disc to double the points you get in this live.
Blue Button: No
Red Button: Yes
How to acquire pointsEdit
Play the event song which is on the event page to earn points.

The event songs are available to play during 11:00 JST - 13:00 JST and at 21:00 JST - 00:00 JST.

The amount of points you acquire will change depending on the difficulty of the song.
You are also able to play the songs in the regular and daily live shows, but you will acquire more points by playing the event song.
By tapping on the event group target images you will be able to acquire tap bonuses (during a live, you'll see on the right top corner how many tap bonuses you have, the more your team contains of cards of the Event target's unit and the more difficult the song is, the more tap bonuses you'll get).
There is an added support function which doubles the event points earned for 10 minutes at the cost of one aichuu disc.
You now also can get more points based on certain cards in your team, such as the group event LE/GR, the limited event gacha SR, UR, LE, GR cards, and the recently added SR, UR, LE, GR gacha cards.
Community content is available under
CC-BY-SA
unless otherwise noted.